Ballerina Jenifer Ringer respects critic's weight jibe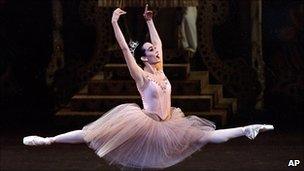 A New York City Ballet dancer has said a newspaper critic, who called her plump in a performance of The Nutcracker, does not need to apologise.
Jenifer Ringer told US show Today that her body is part of her "art form" and therefore open to criticism.
Alastair Macaulay's controversial review in the New York Times said the dancer "looked as if she'd eaten one sugarplum too many".
Ringer added that Macaulay is paid to put his opinion in the newspaper.
The New York Times said Macaulay was not available for comment, and that a critic's reviews stand for themselves.
But Macaulay published a follow-up column to answer criticism of his comments several days later.
"The body in ballet becomes a subject of the keenest observation and the most intense discussion. I am severe - but ballet, as dancers know, is more so."
Ringer, 37, who has suffered from eating disorders in the past, admitted she has a "more womanly" body than most ballerinas, but is not overweight.
The New York City Ballet principal dancer Wendy Whelan said the comments made about Ringer's weight were "unfair".
"Jenifer has always looked like that. I think she's absolutely gorgeous. She's one of my favourite dancers in the world. And when I watch her dance, my eye doesn't see anything wrong with it."
Related Internet Links
The BBC is not responsible for the content of external sites.