BBC 'can't rule out service reductions'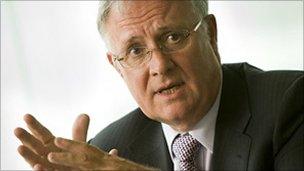 BBC Trust chairman Sir Michael Lyons has said he "could not rule out" the reduction of TV, radio or online services as the BBC seeks to cut costs.
The BBC must find savings of 16% after it was revealed in October that the licence fee will be frozen at £145.50 for the next six years.
Sir Michael, revealing conclusions to a strategy review, said the BBC should look first at efficiency savings.
But he could not promise "everything will continue in its existing form".
"Let's not be under any misapprehension, the notion that we can look for a 16% reduction in budget and sail on as you are is inconceivable," the outgoing trust chairman said.
"So basically you can't rule out service changes and indeed service reductions.
"But that shouldn't be where you start the exercise."
A review of the BBC's TV output that had been due in 2012/2013 is also to be brought forward.
It was also revealed in the strategy review report that the BBC would consult with its commercial rivals on new initiatives and invite their comments about how it had performed.
A decision to publish an annual business plan and budget each year would enable everyone to see BBC investment and programming spend in advance, Sir Michael said
Other moves towards greater accountability featured in the strategy review include publishing more details about how much is paid to top talent and senior managers.
The BBC currently publishes lists setting out the pay of its stars using four bands, with a top band for those earning £150,000 and above.
Nine new bands will be used for both senior managers and talent, including one for the number of people earning between £1m and £5m, and a band for employees earning more than £5m.
Sir Michael said nobody working at the BBC was currently earning more than £5m.
He said licence fee payers needed to "know they are getting value for money".
"This is a strategy to ensure licence fee payers get just that from the BBC, building on much good work that is already going on within the corporation," he said.
The review also set out four objectives to guide the corporation's strategy for the future - to increase quality and distinctiveness, to improve value for money, to set new standards of openness and transparency, and to do more to serve all audiences.
As part of the licence fee agreement, funding of the World Service transferred from the Foreign Office to the BBC.
Earlier this month, director general Mark Thompson said the licence fee deal would mean fewer hours of BBC programmes made, "but to higher quality".
"I think people will notice a difference but I hope that the effect of the difference, in the end, will be positive," he said.
Meanwhile, the government has published a report, commissioned by Culture Secretary Jeremy Hunt, into the commercial viability of government plans for a new "landscape of local TV services".
The report, by investment banker Nicholas Shott, recommends that about 10 areas are chosen to host trial local TV services, providing at least two hours of local content a day.
Other recommendations include that local TV should be promoted by public service broadcasters and that local TV for each area should be broadcast on digital TV channels.