Neil Diamond to enter Rock and Roll Hall of Fame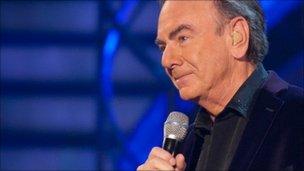 Neil Diamond will be inducted into the US Rock and Roll Hall of Fame next year alongside artists including Alice Cooper and singer-songwriter Tom Waits.
Sweet Caroline singer Diamond, 69, said he had thought in the past that he may be nominated "but I kind of figured they'd get around to me at some point".
Rock star Cooper, 62, said it had been "a waiting game".
Phil Spector collaborator Darlene Love and singer Dr John will also be inducted in New York on 14 March.
Acts including the Beastie Boys, Bon Jovi, Donna Summer and LL Cool J had been shortlisted.
Diamond, whose early hits in the 1960s included Cherry, Cherry said he had initially been "a lone voice out there with a guitar, and it was different than what was going on because it was the English invasion and I wasn't doing that".
He said of his induction: "I'm glad they did it before I'm dead."
Cooper, whose hits with his band include School's Out and Poison, said that before they came onto the scene in the 1970s "there was no spectacle in rock 'n' roll".
"I think what we did was we kind of brought theatre to rock 'n' roll," he added.
Love, 72, who had a number one US hit with He's A Rebel with Spector-produced girl band The Crystals in 1962, said: "It still hasn't hit me yet.
"I still have that nervous stomach and I'm still excited."
New Orleans pianist and singer Dr John, 70, has released more than 20 albums.
The Rock and Roll Hall of Fame musical excellence award will go to keyboardist Leon Russell who this year teamed up with Elton John on his album The Union.
Related Internet Links
The BBC is not responsible for the content of external sites.