Planet Earth live show coming to London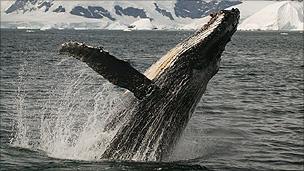 A live music show based on the popular BBC TV series Planet Earth is coming to London, it has been announced.
Planet Earth Live combines HD footage of wildlife and the environment with music from an 84-piece orchestra.
It was staged in the US earlier this year and was hugely successful. The two UK shows will take place on 30 July at the O2 Arena.
Award-winning composer George Fenton will conduct the BBC Concert Orchestra and mezzo-soprano Haley Glennie-Smith.
"Planet Earth Live is a visual and musical spectacular which is designed to create, as a live event, the same unforgettable experience that Planet Earth did when it was broadcast," Mr Fenton said.
Footage for the Planet Earth series, originally broadcast in 2006, took four years to gather using 71 film crews.