Andrea Riseborough to gain Berlin Shooting Star award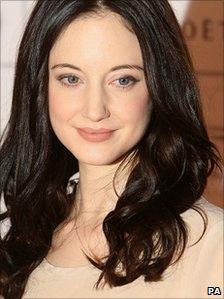 The Devil's Whore actress Andrea Riseborough is to be honoured with a Shooting Star award at the Berlin Film Festival next year.
The 29-year-old is one of 10 European newcomers being recognised "for their outstanding work in feature films".
The jury praised Riseborough as "one of the biggest talents of her generation".
The actors, who hail from countries including Croatia, Germany and Sweden, will receive their awards at the Berlinale on 14 February.
Ireland's Domhnall Gleeson, the son of actor Brendan Gleeson, will also receive a Shooting Star award.
Currently starring in Harry Potter and the Deathly Hallows: Part 1, Gleeson also stars in the upcoming Coen Brothers' western True Grit opposite Jeff Bridges and Matt Damon.
Riseborough, who was Bafta-nominated last year for her role as former Prime Minister Margaret Thatcher in The Long Walk to Finchley, was recognised for upcoming film Brighton Rock.
"With a magnetic screen presence and amazing technique, her ability to totally immerse herself into a character makes her naive, love-struck waitress in Brighton Rock a touching and tragic victim," the jury said.
The actress will also be seen next year in Madonna's directorial debut film, W.E, about Edward VIII's wife Wallis Simpson.
It was also announced that actor Ralph Fiennes' directorial debut - a version of the Shakespeare tragedy Coriolanus - will premiere at the festival which takes place between 10-20 February.
Showing out of competition, it stars Fiennes alongside Vanessa Redgrave and Gerard Butler.
Related Internet Links
The BBC is not responsible for the content of external sites.