Jerry Seinfeld to play one-off UK gig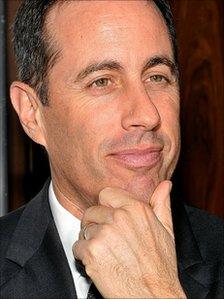 US comedian Jerry Seinfeld is to play a one-off show in the UK next year - his first on these shores since 1998.
The 56-year-old star will play one night at London's 20,000-capacity O2 Arena on 3 June.
Seinfeld's last UK gigs in July 1998 were both sell-outs, despite a clash with the World Cup football final.
Some fans have expressed disappointment at the cost of tickets, which cost more than £100 if bought through the venue's official outlet Ticketmaster.
"I was quite keen to see Jerry Seinfeld's stand-up show at the O2 Arena," wrote AdrianLuscombe on Twitter.
"But at £100 approx, a ticket, no thanks."
According to the Guardian, the comic is "terribly, terribly sorry" about the ticket pricing structure.
"I really had to let the English promoter guide us in that because I don't know the market that well," he is quoted as saying.
Seinfeld rose to fame in the early 1990s when the sitcom he created with Larry David that bore his name became one of the highest-rated US shows of all time.
Since ending the show in 1998, the comic has made semi-regular appearances on stage and wrote and voiced the lead character in 2007 animated film Bee Movie.
The BBC News website contacted promoter Kilimanjaro Live about the ticket prices but has yet to receive a response.
Related Internet Links
The BBC is not responsible for the content of external sites.