Anya Reiss: teen playwright looks to future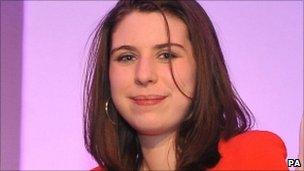 Teenage playwright Anya Reiss began the year preparing for her debut at the Royal Court. At the end of the year she won a prestigious theatre award. What does 2011 have in store?
She was named most promising newcomer for her Royal Court debut Spur of the Moment.
Presenting the award, Sherlock Holmes star Benedict Cumberbatch said 19-year-old Londoner showed "obscenely early promise with her cracking debut".
Reiss wrote the play aged 17, and found out her A-level results during the play's run this summer. So does she now feel like a student or a playwright?
"I feel like a writer, now I've left school," says Reiss, "so that's what I want to carry on doing, but it's nice to have A-levels to fall back on."
Spur of the Moment focuses on a young girl on the brink of adolescence, Delilah (Shannon Tarbet), whose parents are so busy rowing that they barely notice the relationship she is forming with their 21-year-old tenant.
The critics loved it. The Telegraph review began: "My jaw drops. This is the most accomplished debut from a young playwright I've ever had the pleasure to see."
Actress Sharon Small, who was in the cast, says: "Anya was incredibly sure about what she wanted from the piece, so as an actor it was about making that work."
Born and brought up in London, Reiss took part in a half-term holiday writing course at the Royal Court when she was 14 and went on to join the Young Writers' Programme.
In her acceptance speech at the Evening Standard awards, Reiss praised Leo Butler, the writers' tutor at the Royal Court.
"I wouldn't have even tried to write a play in any way if it hadn't been for him and that programme," she told an audience at the Savoy - packed with top actors and directors including Sir Peter Hall and Sir Ian McKellen.
A few days later, at the What's On Stage awards nominations, Reiss admits: "I don't really know what I said on stage or what happened afterwards. I just remember arriving and all the rest is a blur - a good blur - but a blur."
She was also a bit starstruck. "I was walking round with my boyfriend saying 'look over there - it's Gandalf!'"
Reiss is up for the Whatsonstage.com London newcomer award, in the same category as dance partners Ali Bastian and Brian Fortuna (for their debut in dance show Burn the Floor), plus former Skins actor Daniel Kaluuya (Sucker Punch), Jacob Casselden (Tribes), Glee's Jonathan Groff (Deathtrap) and Robyn Addison (The Rivals).
When I ask if it's true Reiss wrote Spur of the Moment in her bedroom, she responds: "Where else would I go? Mostly it was hand-written, quite embarrassingly."
What can she say about her plans for 2011?
"The Royal Court is reading my next piece but that doesn't necessarily mean they will stage your work. The best thing about the Royal Court is they have to actually like it - which is probably why they've done so well recently."
She reveals the new play is called Fool's Paradise. "That's all I should say, as it's all a bit muddled up right now."
She remains similarly down-to-earth when asked how she will she spend her £3,000 prize from the Evening Standard.
"Oh I don't know - it'll probably go on my rent!"
Related Internet Links
The BBC is not responsible for the content of external sites.