Tron sequel tops US box office chart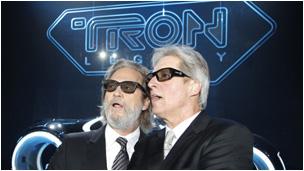 Science-fiction sequel Tron: Legacy has gone straight to number one on the box office chart in the US and Canada.
The Disney release continues where 1982's Tron left off with Jeff Bridges' character hurtled into a virtual reality called Grid.
Bridges reprises his role in the sequel, which made $43.6m (£28.5m) in its opening weekend.
Disney said the opening was within its own expectations although the film reportedly cost $170m (£109m) to make.
Dan Aykroyd family film, Yogi Bear, made a disappointing debut at number two with takings of $16.7m (£10.7m).
Warner Brother executives said they hoped the adaptation of the TV cartoon would pick up over the holiday period.
"We wish it had been a bit higher, but we'll catch up as we get going," said Jeff Goldstein, the studio's general sales manager.
The Chronicles of Narnia: The Voyage of the Dawn Treader, fell to number three from the top spot with $12.4m (£7.9m).
Mark Wahlberg and Christian Bale's boxing drama The Fighter - which garnered six Golden Globe nominations earlier this month - came in at number four with $12.2m (£7.84m).
Reese Witherspoon's romcom, How Do You Know?, which also stars Jack Nicholson and Owen Wilson, failed to ignite the chart.
It debuted at number eight, with takings of $7.6m (£4.8m).
The King's Speech, which led the Golden Globe nominations with seven nods, continued its expansion in limited release.
The film, starring Colin Firth as the stammering monarch George VI, took $1.1m (£0.7m) in 43 cinemas.
Related Internet Links
The BBC is not responsible for the content of external sites.