Lady Gaga: Snow halts Paris concert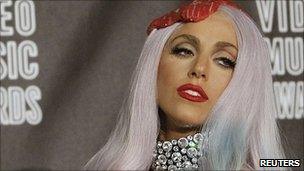 Lady Gaga has been forced to postpone a rescheduled show in Paris because snow meant trucks carrying equipment could not make it to the venue on time.
Authorities had banned trucks from driving through the Ile de France region, which includes Paris.
A show planned for Monday is expected to go ahead. Sunday's postponed show is likely to be rescheduled for Tuesday.
The two Bercy stadium gigs were originally planned for October but were called off because of public strikes.
The globally popular star said a request to do "a stripped version of the show" had been turned down.
"I am furious and devastated, it's unfair to my fans and to me," she wrote.
Lady Gaga, 24, had originally been due to perform on 22 and 23 October but announced she was postponing the concerts because of "logistical difficulties".
She said at the time that the dates were being moved because there was "no certainty that the trucks" would be able to get to the Bercy stadium.
The delays in October had been caused by many thousands of people taking to the streets to protest over plans to raise the retirement age to 62.
Related Internet Links
The BBC is not responsible for the content of external sites.