Emily Blunt on acting with tennis ball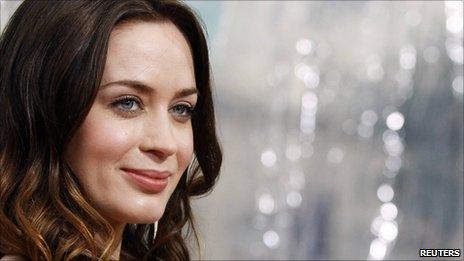 She's no stranger to playing royalty, but Emily Blunt's latest regal outing is a far cry from last year's Golden Globe-nominated The Young Victoria.
The British actress plays Princess Mary of Lilliput in Gulliver's Travels, a modern take on Jonathan Swift's classic 18th Century satire.
Jack Black stars as Lemuel Gulliver, a postroom clerk at a New York newspaper who bluffs his way onto a travel assignment.
After unwisely sailing into the Bermuda Triangle, he ends up transported to a kingdom populated by people a fraction of his size.
Blunt is joined in the Lilliputian court by a crop of British comedians, including Billy Connolly, Catherine Tate and James Corden.
The 27-year-old admits the princess is her most "girly" role to date.
"It's a more light-hearted take on a royal," says Blunt. "None of us really felt like we were playing a royal family. We were all quite ridiculous.
"It was fun to play someone like that, rather than a royal who was stuck-up and imperious."
Best known as the catty assistant in The Devil Wears Prada, Blunt's other royal roles include Princess Isolda and Catherine Howard in the TV dramas Boudica and Henry VIII.
At the beginning of this year, she was also seen opposite Benicio del Toro and Anthony Hopkins in horror remake The Wolfman.
"Wolfman was quite effects-heavy, but this was much more so," says Blunt of her Gulliver's Travels experience, which involved extensive "green screen" acting.
"I find it quite tricky doing all that stuff," she says. "Jack would be shooting his lines on a different side of the set, and we'd be looking at a tennis ball on a pole.
"We were like that the whole time," she continues, turning her head skywards. "I found it quite tedious at times.
"The reason you love acting is to have the human experience of someone in front of you, and look in their eyes. It's strange when you're having to emote with a tennis ball."
The actress concludes she is "sort of on the fence". "I think it's fun to try - and I would definitely do it again."
So is School of Rock star Jack Black as larger-than-life in person as if he is on camera?
"Everyone imagines he must be so manic," says Blunt. "He's quite shy actually. It's like he conserves the energy between takes.
"He's very, very funny, but he doesn't necessarily want to take centre stage between takes. We left that to Jason Segel."
Blunt is referring to the US actor who plays Horatio, a Lilliputian whom the giant Gulliver helps woo Blunt's princess.
He is also the co-writer and star of a new Muppet movie, in which Blunt and Black have small roles.
"Jason's my friend and he asked me if I'd pop in and I did," says the former.
"Amy Adams is in the movie too and she is one of my dearest friends, so it was great to go and mess around with them for a day."
Although The Wolfman and Gulliver's Travels were shot in the UK, Blunt is now based in Los Angeles with her actor husband John Krasinski.
"It's good to be there for work," she says. "I have a very happy time there.
"But I also leave LA a lot to go to New York, and I come to London because my family's here and I do films here."
New York provided the locations for Blunt's next film The Adjustment Bureau, a sci-fi thriller based on a short story by Philip K Dick.
The actress plays an enigmatic ballerina who arrives in the life of an ambitious congressman, played by Matt Damon, with unexpected results.
"I feel LA's a good place if you can take breaks from it," says Blunt. "It's very different.
"It's an adjustment for sure, but I like a lot about it."
Gulliver's Travels is out in the UK on 26 December. The Adjustment Bureau is released on 4 March 2011.
Related Internet Links
The BBC is not responsible for the content of external sites.