Alex Da Kid: The Brit behind 2010's biggest hit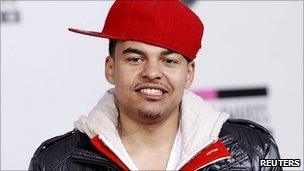 Love the Way You Lie, a duet by US superstars Eminem and Rihanna, was the UK's biggest selling single of 2010, spent seven weeks at number one in the US and has five Grammy Award nominations.
But not a lot of people know it was written and produced by a 27-year-old Brit who once played football for Bristol City.
Alex Da Kid wants U2. He wants Cher. He wants Coldplay.
This is not the list of CDs he would like for Christmas.
These are the stars he's calling up to work with in 2011 and - given his track record over the last 12 months - they would be likely to take his calls.
In one of pop's success stories of 2010, the London-born songwriter and producer has gone from relative anonymity to crafting songs for the biggest names in urban music, including Eminem, Rihanna, B.o.B, Dr Dre, Diddy, TI and Nicki Minaj.
"A year ago, I was looking up to those guys, I wanted to be where they were," he says. "To be working with them is pretty cool.
"2010 has definitely been a good year. I just want to make 2011 a bigger year."
Alex Da Kid, known as Alexander Grant to passport officials, was born and brought up in Wood Green, north London, and originally planned to become a footballer.
He played for Championship side Bristol City's youth team before getting distracted by girls and other frivolous things, and drifted away from the professional sportsman's path.
Having failed on the pitch, he decided he still wanted a shot at glory.
"After football, I thought, OK, if I don't do something seriously, I'm going to be just another guy in a small flat somewhere," he says. "I really didn't want that. I didn't want my life just to be a regular life."
From that point, he set about networking his way into the music industry - pestering executives until they gave him work experience, getting to know managers and people at record labels and spending time in recording studios.
When he moved to the US, it was a similar story. He worked his contacts relentlessly until his song Airplanes was picked up by Atlantic Records.
Recorded by rapper B.o.B and Paramore singer Hayley Williams, it became a global hit.
The song's success attracted the attention of Eminem, who was looking for fresh new producers and writers to work with on his album Recovery.
Just a couple of weeks before the album had to be finalised and mastered, Eminem asked Grant to send him some new songs.
The Brit supplied Love the Way You Lie and Eminem was desperate for it to be on the album, Grant says. Despite the tight deadline, the rapper recorded his part in two days.
Then it all came down to Rihanna, who had just one chance to record her vocals in a Dublin studio while on tour in May.
"We still didn't know, literally eight or nine hours before the album had to be given in, whether it [the song] would go on the album," Grant recalls.
"If Rihanna didn't do a great vocal performance, there was no time to re-do it. It just wouldn't have made the album. We couldn't have done it another day, it just wouldn't have gone on the album.
"So, it got pretty intense. We were all sitting around in the studio waiting for Rihanna to give us these vocals, and we were all just praying that they were perfect - which they ended up being.
"If it was a bad day for her and she didn't nail it that particular day, normally you'd just go back and re-record it a couple of days later. But we didn't have that time."
The song did make it onto the album, which was released the following month.
The track has been downloaded four million times in the US alone and its success contributed in no small part to the revival of Eminem's reputation and commercial fortunes.
Since then, Dr Dre - the godfather of modern hip-hop, has called on Grant to help out on Detox, the solo album that has gained near mythical status after 11 years of delays and anticipation.
Grant is about to get a role as a mentor on the new series of American Idol, while also launching his own record label - and with it the career of his protege Skylar Grey.
But his most ambitious plans for 2011 revolve around that wish list of pop superstars.
"I want to take big iconic artists and pair them with relevant rappers or singers," he says.
"I'd love to work with Coldplay and Chris Martin or U2 and Bono, those kinds of people, even Cher, and pair them with hip-hop artists."
The masterplan is to create hits that will appeal across the board - to music fans young and old, and lovers of rock, pop and urban alike, he explains.
"There are things in the works where hopefully we can make some of those things happen."
So why did he need to move to the US to make a go of his music career?
"If you have a hit in America, it generally becomes a hit globally," he explains. "Whereas if you have a hit in England it's still a whole entire new mission to make it a hit in America. If you want to be the best, you have to be around the best.
"I had to be in America because the whole world follows American culture and the trends of America, and I really wanted to do things on a big level. I want to win Grammys."
When the Grammy Awards are handed out in Los Angeles in February, he may well be able to tick another achievement off the list.
Related Internet Links
The BBC is not responsible for the content of external sites.