Paul Giamatti gives us Barney's Version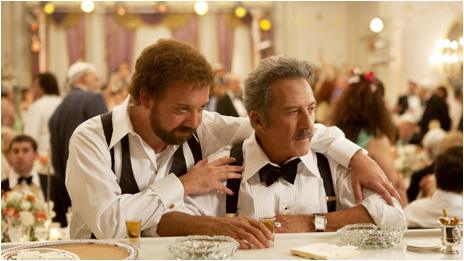 US actor Paul Giamatti has already proved his versatility in films as diverse as road trip movie Sideways, Ron Howard's real-life boxing tale, Cinderella Man, and Leo Tolstoy biopic, The Last Station.
But his latest outing has proved to be another challenge altogether. Giamatti plays the lead role in the film adaptation of Mordecai Richler's 1998 prize-winning comic novel, Barney's Version.
And his performance has won him a second Golden Globe, this time for best actor in a musical or comedy.
Based on the fictional story of one seemingly ordinary man with a colourful life - he marries three times and is accused of murdering his best friend - Giamatti had to play Barney over a period of nearly four decades.
Bringing it to the big screen was a labour of love for the producer Robert Lantos and for Richler. It took nearly 10 years and sadly Richler died in 2001, mid-way through the process.
Giamatti was approached to play Barney after Lantos saw him in 2004's Sideways in which he played the middle-aged drunk but loveable Miles Raymond. But, says Giammati, the two characters are quite different.
"This guy [Barney] has a lot more life to him but I can see the blunt, unpleasant irascible aspects of the character were probably the same.
"I actually think this guy is a much more likeable person. As bad as this guy is, I think he's actually much more engaging, vital, and interesting.
"Miles is just a horror show. This guy is actually a better human being."
Giamatti says that the three women he stars opposite - Rachelle Lefevre, Minnie Driver and Rosamund Pike - "were a big factor" in his accepting the role.
But working with three beautiful actresses was not the only attraction, the film also offered the actor a great challenge.
"The stretch of time that was covered, how much detail there was - this doesn't come along too often," Giamatti says.
"It's always a challenge to worry that it's going to be convincing, that it's going to look like the same guy. I'm either young or old, it was hard."
Giamatti deliberately declined to read Richler's book in detail before embarking on the role of Barney.
"I knew of it but I read the script first. I then read the book very lightly - I stayed away from the novel as I didn't want to get too caught up in what was there," he says.
Did he feel any pressure from fans of the novel, an international bestseller and winner of the 1998 Commonwealth writer's prize for best book?
"I felt it was very clear in the script and from what I knew in the book what he [Barney] was supposed to be.
"I knew he was somewhat based on the author and Robert Lantos, the producer, so I had some models to draw on to some extent. But I couldn't worry too much about disappointing people's expectations. I had to just make it my own character really."
Dustin Hoffman also features in the movie as Barney's father, former police officer Izzy, and the younger actor is full of understated praise for the Hollywood veteran.
"He's pretty good at what he does, he's been around for a while. He knows what he's doing. You just sort of let the old pro do what he's gonna do and just follow his lead," he says.
"I knew him sort of already and he doesn't walk into a room trying to intimidate you. He's just as at sea as you are about things and happy to admit it, he'll just work harder to find the right thing. You just follow his lead."
Barney's relationship with his father allows our flawed protagonist to be seen in a more sympathetic light. The pair have been close since the death of Barney's mother and Izzy never deserts him.
"You see him being much more warm and loving with his father than you do with anyone else except Miriam, so that's a humanising relationship I hope," says Giamatti.
But the movie refreshingly avoids a neat and happy ending.
"I liked the fact this movie treats it realistically, it doesn't treat it as some fairytale thing. He screws up, hits the rocks and it doesn't really get back on," says Giamatti.
Barney's Version opens across the UK on 28 January.
Related Internet Links
The BBC is not responsible for the content of external sites.