Tron sequel trumps Narnia sequel at UK box office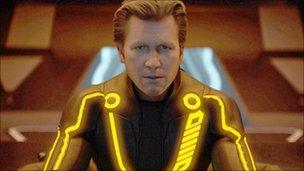 Tron Legacy was the top draw at cinemas in the UK and Ireland this weekend, taking £1.97m in its first three days.
Its takings saw Disney's sci-fi sequel knock last week's top movie - Narnia fantasy The Voyage of the Dawn Treader - down to two in this week's chart.
Audiences were less impressed by Cher and Christina Aquilera film Burlesque, which could only claim sixth place with takings of around £420,000.
Fred the Movie - in which pop star Pixie Lott appears - fared even worse.
The comedy - about a hyperactive US teenager who made his name on the YouTube website - ranked eighth with takings of around £250,000, according to Screen International.
Tron Legacy, a follow-up to Disney's 1982 cult movie Tron, was also the top film in US and Canada over the weekend.
The 3D film sees Jeff Bridges reprise his role as a software programmer trapped inside a virtual world where computer games are fought for real.
With the help of advanced "motion capture" technology, the 61-year-old also plays a villainous computer "avatar" based on his younger self.
This week's top five was completed by the latest Harry Potter film, Johnny Depp's romantic thriller The Tourist and family animation Megamind.
Tron Legacy faces competition this week from another sequel - Little Fockers , the latest comedy in the Meet the Parents series - which opens in cinemas on Wednesday.
Related Internet Links
The BBC is not responsible for the content of external sites.