Anne Hathaway's 'sensitive' Judy Garland project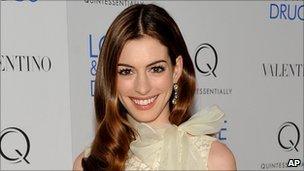 Anne Hathaway has explained delays in her Judy Garland film are because of the "sensitive" nature of the project.
She told BBC Radio Four's Front Row she hoped production would start in the next two years.
The Devil Wears Prada star was first in talks to play Garland in early 2009.
"It's a very sensitive project and there have been so many stories told about her life that we're really trying to get it right.
"So we've taking our time with it. I know it seems like it's sort of an endless process but it's very, very slow incremental steps.
"I had a meeting about it a couple of weeks ago and we're all very motivated."
Film producer Harvey Weinstein was quoted in 2009 as saying it would be a film and theatre project based on Gerald Clarke's 2001 book Get Happy: The Life of Judy Garland.
Hathaway said she will be singing in her role as the legendary star: "I certainly don't sing like Judy Garland but the talk is to have me do the singing.
"But I think people might cry murder if they don't get to hear Judy's beloved voice so the talk is for me to sing but I don't know if that's exactly what will happen."
Hathaway is nominated for a Golden Globe for her latest film Love and Other Drugs which opens in the UK on 29 December 2010.
Listen to Hathaway's interview with John Wilson on Front Row 21 December BBC Radio Four 1915 GMT or listen again via BBC iPlayer.