Avatar is 'most pirated film of 2010'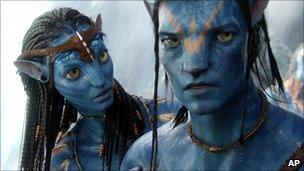 Sci-fi epic Avatar was the most pirated film of 2010, according to data released by a file-sharing blog.
James Cameron's blockbuster was downloaded 16.6m times on one file-sharing site alone, TorrentFreak said.
Second on the list was comic book action film Kick-Ass, with 11.4m downloads, followed by Leonardo DiCaprio in Inception with 9.7m.
Last year's top-pirated film was JJ Abrams' Star Trek reboot, which was downloaded close to 11m times.
Cameron frequently touted 3D film making as the industry's best hope for combating piracy, however, it did not stop millions from downloading it for free.
Despite topping the list, Avatar still took nearly $2.8bn (£1.8bn) at the worldwide box office to become the highest-grossing movie ever.
Oscar-winning film The Hurt Locker also featured in the top 10 list at number nine.
Although the film had already been available on file-sharing sites for most of 2009, its popularity increased online after it won six Oscars this year.
Notable absentees from the top 10 include two of the best grossing movies at the box office this year - Toy Story 3 and Alice in Wonderland.
However, Kick-Ass and Matt Damon war film Green Zone were both hugely popular among the downloading public, while their box office figures were relatively modest.
TorrentFreak said the figures were collected from several sources, including reports from thousands of BitTorrent trackers.
All release formats, including versions filmed using cameras in cinemas were counted.
Related Internet Links
The BBC is not responsible for the content of external sites.