Jamie Oliver lands Christmas number one book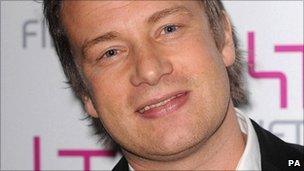 Jamie Oliver has scored the Christmas number one spot in the book chart with his latest cookbook, Jamie's 30-Minute Meals.
In the past seven days, 149,640 copies have been sold, according to Nielsen BookScan data.
It is the third Christmas number one for Oliver - Happy Days with the Naked Chef topped the charts in 2001 as did Jamie's Italy in 2005.
Oliver's latest release is now the best selling cookbook in recent years.
Nielsen BookScan said on average, £215 was spent on copies of the book every minute during the last week.
Earlier this month, it became the fastest selling non-fiction title after shifting 735,000 copies in just 10 weeks.
But the Christmas boost brings sales of Jamie's 30-Minute Meals to 1,024,186 copies - beating the previous best selling cookbook, Delia Smith's 1998 How To Cook (Book One).
However, current records date back only as far as 1998. Smith's publisher Ebury estimates sales of her 1995 hardback Winter Collection, stand at around two million copies.
The next most popular purchase at UK booksellers for the week was surprise hit, A Simples Life - a fictional memoir by TV advertising meerkat Aleksandr Orlov - selling 70,990 copies.
Related Internet Links
The BBC is not responsible for the content of external sites.