Doctor Who debut most watched on iPlayer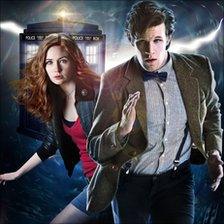 Matt Smith's first full episode as the latest Doctor Who was the most watched programme on BBC iPlayer this year.
Figures show The Eleventh Hour has been streamed 2.2 million times since it was broadcast in April.
Top Gear's series opener was watched 1.6m times, while the first episode of Sherlock was streamed 1.4m times.
November was the free service's most popular month, eliciting 141 million of the year's 1.3 billion requests.
Launched in 2007, the BBC's video-on-demand service celebrates its third birthday on Christmas Day.
The BBC's coverage of England's World Cup football match against Slovenia on Five Live was the most requested radio programme of the last 12 months with 317,000 requests.
Daniel Danker, general manager of BBC Programmes and On Demand, said it had been a "remarkable" year.
He pledged to give even more licence fee payers in 2011 and increase investment in mobile and TV "dramatically".
The iPlayer is available on around 40 different devices, including games consoles, mobile phones and tablet computers like the iPad.
Other UK channels have video on demand services but have not released usage figures.