Andy Warhol art thief sought by police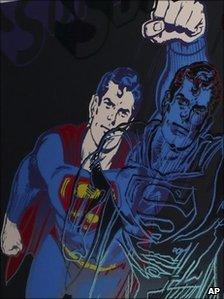 New York police are looking for a thief who tunnelled into an apartment last month and stole works by Andy Warhol, Roy Lichtenstein and others.
The thief broke through a hallway wall between 24 and 28 November while the owner was away and took art and other items worth $750,000 (£485,000).
Among prints taken were Lichtenstein's Thinking Nude and Moonscape, and Warhol's The Truck and Superman.
A series of eight signed Warhol prints, called Camouflage, were also taken.
Watches, jewellery and an oil painting by British artist Carl Fudge were also stolen.
So was a video recorder that had been connected to surveillance cameras.
The identity of the victim has not been disclosed.