Scarlett Johansson and Ryan Reynolds file for divorce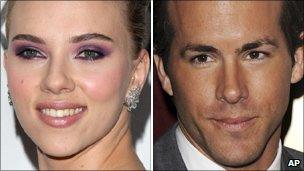 Hollywood actors Scarlett Johansson and Ryan Reynolds have filed for divorce in Los Angeles citing irreconcilable differences, court records show.
The pair list their separation date as 14 December - the day they announced their break-up.
They said at the time they had started their relationship "with love and it is with love and kindness we leave it".
Lost in Translation star Johansson, 26, and The Proposal actor Reynolds, 34, were married in September 2008.
They said in their statement of 14 December they had made the decision to end the marriage "after long and careful consideration on both our parts".
"While privacy isn't expected, it's certainly appreciated," they added.
Reynolds was previously engaged to fellow Canadian Alanis Morissette from 2004 to 2006.