Carol Ann Duffy writes poem for Coronation Street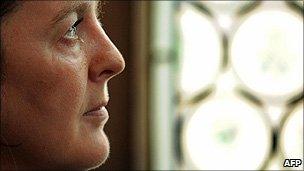 Poet Laureate Carol Ann Duffy has written a poem for Coronation Street marking the soap's recent tram crash.
The verse was read out on Friday's episode by Street regular Ken Barlow, at a candle-lit service remembering the characters who died in the disaster.
"I was so proud to be asked and so proud to know my poem would be on the show," Duffy said.
The tram crash episode formed part of the ITV1 show's 50th anniversary celebrations earlier this month.
The poet, who celebrated her 55th birthday this week, was asked to pen the words after producers learned of her friendship with Coronation Street creator Tony Warren.
Viewers on Friday saw Emily Bishop suggest to Ken he read a poem at the service, being held at the scene of the accident.
The author of the verse was not named in the programme.
The poem began: "If someone could direct me to a street/where I could stand, cobbles/beneath my feet tearful with rain; the/shadows of my hopes behind the/stained-glass windows of a pub."
Duffy attented the filming of the episode, saying it was "magical". "We were stood in the fake snow and it felt like a real street," she said.
"If there was anyone deciding what poem was to be read at a community event it would be Ken," she added.
Ashley Peacock and Molly Dobbs were among the characters killed off in the crash after a tram plummeted off a viaduct following a gas explosion.
Plans are afoot for the tram built for the episode to become an exhibit at Manchester's Museum of Science and Industry.
Related Internet Links
The BBC is not responsible for the content of external sites.