Little Fockers tops US holiday box office chart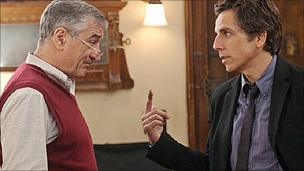 The third film in the Fockers franchise has made its debut at number one in the North America office over the Christmas period, studio estimates show.
The movie, which stars Robert De Niro and Ben Stiller, took $34m (£22m) during the three-day period, ahead of the Coen Brothers' True Grit.
Gulliver's Travels took $7.2m (£4.6m) over two days in fewer cinemas, landing in a modest seventh spot.
US box office takings have slid 45% compared to last Christmas.
Over the same period in 2009, record-breaking blockbuster Avatar was in its second week of release and box office hit Sherlock Holmes had just opened.
Snowstorms on the US east coast and Christmas Eve falling on Friday - one of the main evenings for movie-going in North America - did not help box office performance, analysts say.
Hollywood.com's Paul Dergarabedian added that it is a relatively weak Christmas for blockbusting movie openings, allowing smaller films with Oscar potential to do relatively well.
Science fiction sequel Tron: Legacy, which at one point commanded the box office chart, eventually fell to number three with less than half the takings of last week.
Little Fockers was able to do well with film fans despite a number of unfavourable reviews.
The third film failed to capture a better opening than 2004 sequel Meet The Fockers, but performed more favourably that the comedy's original outing Meet The Parents.
Related Internet Links
The BBC is not responsible for the content of external sites.