Pop producer Trevor Horn appointed CBE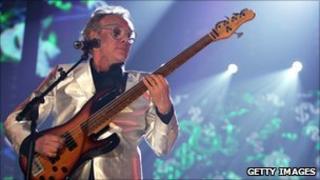 Trevor Horn, who has been made a CBE in the New Year Honours, is one of the most influential record producers of the last 30 years.
During his career his epic pop treatment has graced hits by Frankie Goes to Hollywood, the Pet Shop Boys, Grace Jones, Seal and Robbie Williams.
A classically trained musician, Horn began as a session musician and in the house band at the Hammersmith Palais nightclub in London.
It was this apprenticeship, he claims, that taught him "the dynamics of the dance floor".
It was not until he reached 30, in 1979, that his career began to take off.
His big break came when he donned a pair of giant spectacles, formed The Buggles and wrote the the hit that was to make his name.
The duo's Video Killed the Radio Star reached number one in 16 countries. Two years on, it achieved immortality as the first track played on MTV.
Horn then briefly fronted progressive rock band Yes, though he received dire reviews as its bassist and lead singer.
Moving behind the mixing desk, Horn made his name as a producer with girl-boy duo Dollar.
He then moved on to mastermind The Lexicon of Love, ABC's masterpiece of 1980s pop.
Horn's ability to combine emerging synthesiser and sampling technology with rhythm and drama gave even the cheesiest tunes a sense of adventure and futuristic allure.
There was also an unlikely collaboration with punk maestro Malcolm McLaren on the Duck Rock album, not to mention work with innovative electronic group The Art of Noise.
The producer returned to Yes in 1983 for the album 90125, single-handedly reinventing the ageing rockers with chart-topping anthem Owner of a Lonely Heart.
In the same year he signed Liverpudlian group Frankie Goes to Hollywood to his new label, ZTT.
Horn used drum machines and sampling to create the symphonic dance tracks Relax, which topped the charts in January 1984, and Two Tribes, which stayed at number one for nine weeks that summer.
Horn dominated '80s orchestral pop, scoring hits with the Pet Shop Boys, Tina Turner, Simple Minds and Grace Jones's mesmerising Slave To The Rhythm.
He was named best producer at the Brit awards in 1983, 1985 and 1992, and won a Grammy in 1995 when Seal's Kiss from a Rose was named record of the year.
Over the last decade, the sweeping hits have continued - with Russian duo Tatu, X-Factor runners-up G4 and Robbie Williams on Reality Killed the Video Star, an album named in honour of the producer's breakthrough hit.
His eclectic outlook has also seen him lend his polish to such indie acts as Belle & Sebastian, Kid Harpoon, Captain and Delays.
Most recently he produced Robbie Williams and Gary Barlow's duet Shame - recorded, along with part of Take That's reunion album Progress, at his Sarm West studios in west London.
He was also at the controls for guitar legend Jeff Beck's album Emotion and Commotion, up for seven Grammy awards in February.
Horn received a standing ovation from his peers in the music industry when he was bestowed with an outstanding contribution honour at the Ivor Novello songwriting awards in London last May.
A few months later, the Buggles reformed for a one-off gig to raise money for the Royal Hospital for Neuro-disability in London.
It was, he said, "a very special cause, one that's close to my heart".
His words hinted at a family tragedy five years ago when his wife and business partner Jill Sinclair was accidentally shot in the neck with an air rifle by their son, leaving her in a coma.
"You soon discover that the things money brings aren't important," he told a newspaper last year.