Discovery cancels Michael Jackson autopsy TV show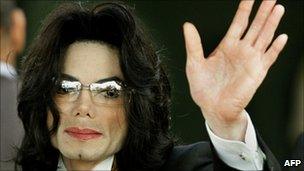 The Discovery Channel television network has said it will not air a re-enactment of Michael Jackson's autopsy, amid concerns the programme was distasteful.
Executors for the late star's estate had requested the programme - entitled Michael Jackson's Autopsy: What Really Killed Michael Jackson - be cancelled.
John Branca and John McClain had said the show was "in shockingly bad taste".
Discovery said an forthcoming court hearing was also a factor.
"Given the commencement of legal proceedings beginning next week, and at the request of Michael Jackson's estate, the scheduled broadcast of the medical documentary related to Michael Jackson's official autopsy has been postponed indefinitely," Discovery Networks International said in a statement.
Mr Branca and Mr McClain said they were pleased with the network's decision.
In a letter previously sent to Discovery, the pair had accused the company of being motivated by "blind desire" to exploit the singer's death.
"Your decision to even schedule this programme is in shockingly bad taste and insensitive to Michael's family," the co-executors wrote.
The programme was scheduled to be aired in Europe on 13 January.
An advertisement used to promote the show reportedly depicted a body covered by a sheet with one hand wearing the singer's trademark sequined glove visible.
A preliminary hearing is scheduled to begin on 4 January where it will be decided if there is sufficient evidence to try Jackson's physician, Dr Conrad Murray, on involuntary manslaughter charges.
Dr Murray has repeatedly denied causing Jackson's death.
The singer died suddenly in June of 2009 from a prescription drug overdose at age 50, weeks before beginning a set of concerts.
Related Internet Links
The BBC is not responsible for the content of external sites.