Actor Pete Postlethwaite dies: Your memories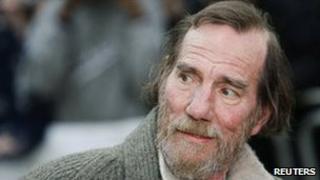 Oscar-nominated British actor Pete Postlethwaite has died at the age of 64, a spokesman has announced.
Journalist and friend Andrew Richardson said the actor, who was appointed OBE in 2003, died peacefully in hospital in Shropshire after a lengthy illness.
In 1994, he was nominated for an Oscar for In The Name of the Father.
BBC News website readers have been sending their memories and tributes.
Your comments
I had the pleasure of meeting Peter whilst I was security officer at West Yorkshire Playhouse. What a nice man and what an actor! He was appearing in our theatre in a one-man show Scaramouche. Some of our guests told me it was the finest piece of acting they had ever seen, I agreed. He liked his pint of Guinness in the bar after the show. A sad loss. Allan Mawson, Leeds
I met Pete a few years ago. I was giving a talk to students in the Old Duke in Bristol and Pete was playing in the Old Vic. He knocked me off my stool. We later had a beer together and talked about his acting and my teaching. I ended up working in Africa thanks to Pete - such a nice man. He will be sadly missed. Steve Guest, Bristol
I met Pete at an autograph signing at Earls Court in 2008. A wonderfully charming, polite and humble man - who has given some incredible performances over the years. I spoke to him briefly about his work on David Fincher's Alien 3 and the Usual Suspects, two of my favourite-ever films. A very happy memory made all the more poignant today. Deborah Jacob, Sheffield
As a young actor, Postlethwaite has always been somebody I've looked up to as an incredibly talented but humble actor. I was lucky enough to be able to take part in a master class with him a few years ago and see his electric performance of King Lear in 2008. A fantastic man as well as actor who I'm sure will be sorely missed by many. John Wilkie, Glasgow
We worked with Pete at the Everyman in the seventies. He was a funny and gentle person and I have fond memories of his amazing performances both on the stage and in Vanload, the theatre's touring company visiting pubs, colleges and community centres throughout Liverpool. We still have lots of production photographs of him with Julie Walters, Matthew Kelly and other Everyman names, in various productions. He was a great character and a lovely man. Bob Ash and Jackie Ross Ash, London
Pete recorded commentary with us for some wind up audio boxes on a Natural England site in Shropshire; they were intended for both blind and sighted listeners. He was excellent, totally efficient and accurate. He came to the launch of the project and communicated in such a friendly way to our friend who is blind that she has never forgotten it. Peter has been a great supporter of the Ludlow Assembly Rooms and will be greatly missed. Julia Ionides, Ludlow, Shropshire
Pete taught for a brief period at my (convent!) school in Manchester. He was quite uncomfortable at times to be surrounded by hormonal teenage girls, but we all adored him! We all wrote "I love Pete Pos" on our white gym shoes. So many crushes over one young man! (He wasn't a bad drama teacher, either.... as one would expect) So sad to hear of his death - a very fine actor. Stella Forsdike, Sutton Coldfield
As an usher at The Young Vic during his run as King Lear, two years ago, I can say I found Pete a delight with always a smile and a wink for the usher team. I will fondly remember him standing in his dressing gown by the open fire escape door to have a smoke before launching into this most challenging of roles. Far too young to die. So sad. Susan Harald, London
I met Pete Postlethwaite around 15 years ago when he stayed at the hotel I was working at. He was filming for the BBC adaptation of 'Martin Chuzzlewit' at the time. He was already a hero of mine from his role as Giuseppe Conlon in 'In the Name of the Father'. I remember he gave me a huge hug when I told him this. A great man and a huge loss. Jason Meek, Malvern
I remember regularly attending Liverpool Everyman in the mid-1970s when I was a student in Liverpool and the rep company included three fine actors who proceeded to fame: Kevin Lloyd, Julie Walters and, of course, the great Pete Postlethwaite. Sadly only Julie Walters of these three now survives. It was exciting seeing the progress, range and skills of Postlethwaite develop. from the highly entertaining Jurassic Park films to the deeply moving portraits of an outrageously wronged man in In The Name of The Father and the ambiguities of his character in The Constant Gardener, Pete Postlethwaite was a superb, reliable and highly talented actor with a remarkably expressive face. He will be sadly missed. Derek Ross, Tilstock, Shropshire
I first came across him in 1997 when teaching Romeo and Juliet and using the video of the DiCaprio movie to assist and thought what a great rendition of Friar Laurence. But then we got the chance to see him in Scaramouche Jones at Liverpool. He was unforgettable, especially when someone's mobile phone went off half way through his intro section and all he did was stop, think for a moment, and then did a mime for the man in the audience to turn the thing off. Sadly missed and fondly remembered. A truly great actor. Rob Johnson, Selby
I am completely devastated and feel a genuine loss for Pete. He was a staple of the British diet who starred in lots of Hollywood films, it's as if Yorkshire Puddings were suddenly erased from a Sunday dinner, it just wouldn't be a Sunday dinner without them. My thoughts go out to his family and friends at a time like this. I wish them all the best and would like to remind them of how much character and spirit Mr Postlethwaite put in to his performances. Truly a sad day for an exceptional actor. Stuart M, Durham