Archers marks 60th by killing off top character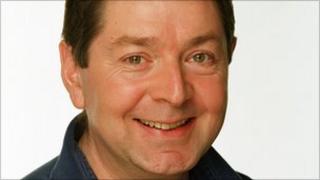 One of The Archers' best-known characters, Nigel Pargetter, has died after falling from a roof on the show's 60th anniversary, listeners have heard.
The drama unfolded during a new year's party hosted in the fictional village by Pargetter and wife Elizabeth.
But it ended with Nigel, played by Graham Seed for nearly 30 years, falling off the roof of Lower Loxley Hall while trying to untie a banner.
Listeners had been told the story would "shake Ambridge to the core".
The show's five million listeners also heard Helen Archer being rushed to hospital to have her baby delivered six weeks early.
Series editor Vanessa Whitburn said it had been a "tough decision" to kill off one of the programme's main characters.
"We thought long and hard about a storyline that would befit a landmark anniversary like the 60th and one that would reverberate through Ambridge well into the year," she said.
"But we have given Nigel a grand exit that listeners will talk about for years.
"Nigel's death will have a profound impact on Ambridge and central characters and it will go on affecting them in 10 years' time."
The radio drama's strategy of secrecy was in contrast to the tactics of TV soaps, whose storylines are regularly released in advance.
Pargetter, 51 in the show, and described as being born of country gentry, leaves a fictional wife Elizabeth, and 11-year-old twins Lily and Freddie.
Seed, 60, a regular theatre, TV and film actor, was spotted in 1980 performing in a Birmingham Rep production by then Archers editor William Smethurst and asked to audition for the drama.