Honey West actress Anne Francis dies aged 80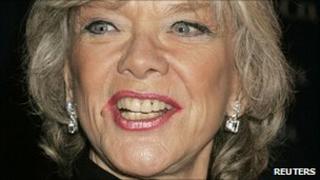 Actress Anne Francis, who played a sexy private eye in US TV series Honey West, has died aged 80.
Her daughter Jane Uemura, told the Los Angeles Times newspaper that she died from complications of pancreatic cancer.
The star was awarded the best female TV star Golden Globe for Honey West in 1966.
She was also known for playing the love interest in the 1950s science-fiction classic Forbidden Planet.
Throughout her career, which began in radio and Broadway, Francis appeared opposite stars such as Spencer Tracy, Paul Newman and Robert Taylor.
Her other films included Bad Day at Black Rock with Tracy, Rogue Cop and A Lion Is in the Streets.
When film work began to die down, Francis became active in television, appearing in dozens of series, including Mission Impossible, The Golden Girls, Charlie's Angels and Nash Bridges.