Archers boss accidentally reveals death plot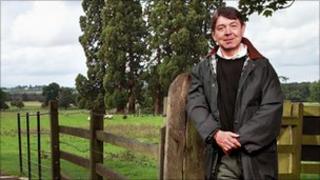 The editor of long-standing BBC radio soap The Archers accidentally revealed the climax of a secret storyline before the episode was broadcast.
Listeners were left wondering whether Nigel Pargetter, played by Graham Seed, survived a roof fall on Sunday.
But on Monday Vanessa Whitburn told Radio 4's Today that a birth and death would feature in the 60th episode.
After her gaffe was pointed out, she attempted to backtrack saying it was only a "potential death".
Initially Ms Whitburn refused to disclose whether the character died from the accident, telling presenter Evan Davies he would "have to tune in" to find out.
But several moments later, when talking about the episode's other plot line, which involved the birth of Helen Archer's baby, Ms Whitburn said: "It's interesting - obviously there's a birth and a death, you know, and that's quite iconic."
Despite trying to cover up her slip up, Monday night's episode, confirmed that aristocrat Nigel had died, ending Seed's role in the soap for nearly 30 years.
In a statement posted on The Archers website, Seed said it was with "huge sadness" that he was leaving and it had been a "joy and a privilege to play" the role of Nigel.
In a statement Ms Whitburn said: "It is a tough decision to kill off one of the show's leading characters, especially Nigel who, thanks to Graham Seed's subtle and spirited performance, will go down in soap opera history.
"But we have given Nigel a grand exit that listeners will talk about for years."
The 60th anniversary of the show, was marked on Sunday by its first ever half-hour episode, double its usual running time.
Listeners were told that the plot had been shrouded in secrecy - would "shake Ambridge to its core".
However, reviews for the episode have been mixed.
Gillian Reynolds from The Daily Telegraph said: After trailers galore, some blazing Dies Irae, others garlanded with famous voices, it would have had to be something pretty sensational to live up to all the expectations. And it wasn't, actually, all that remarkable.
The Daily Mail's Paul Revoir and Katherine Faulkner claimed that many listeners were "left feeling that the long-anticipated - and much-hyped - diamond jubilee edition had turned out to be a bit of a 'damp squib'."
But the paper's AN Wilson described the episode as a "masterpiece of suspense".