O'Farrell up for top Costa book prize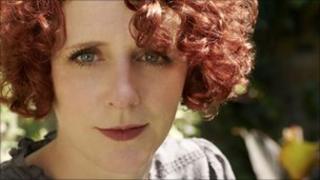 Best-selling novelist Maggie O'Farrell has won her first major literary prize, the Costa novel award, putting her in the running for Book of the Year.
The Hand That First Held Mine is up against four other books, including children's novel Out of Shadows by debut writer Jason Wallace.
He saw off competition from best-selling author Jonathan Shroud.
Other winners were poet Jo Shapcott, biographer Edmund de Waal and novelist Kishwar Desai.
The five writers will compete for the Costa Book of the Year award, which will be announced on 25 January in London.
Each winner receives £5,000 each - they were selected from 540 entries.
The judges described O'Farrell's novel as "a book of grand themes and intimate moments."
Wallace's Out of Shadows is set in the newly-independent Zimbabwe.
Shapcott's poetry collection, Of Mutability, is her first new work in over a decade and was partly influenced by her experience of breast cancer.
Desai took the first novel prize for her debut, Witness The Night, which explores India's hidden story of female infanticide.
The book of the year will be chosen by a panel of judges which includes publisher and broadcaster Andrew Neil, actor David Morrissey and news presenter Natasha Kaplinsky.
Previous winners include Andrea Levy's Small Island, Philip Pullman's The Amber Spyglass and Seamus Heaney's The Spirit Level.
The winner will win a further £30,000.