Dennis Hopper art collection up for sale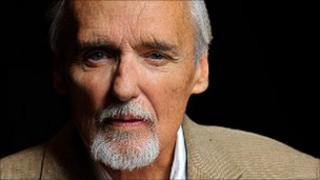 Around 300 works of art and memorabilia owned by the late Easy Rider actor Dennis Hopper are to go under the hammer in New York next week.
Included in the sale is an Andy Warhol portrait of former Chinese leader Chairman Mao Hopper shot two bullet holes through in the early 1970s.
The print is expected to fetch as much as $30,000 (£19,360).
Most of the items up for sale adorned the actor's California home, where he died last May at the age of 74.
"It was Dennis's wish to sell everything", said Alex Hitz, a family friend and trustee of Hopper's estate.
He said the actor's four children could not take on a Venice Beach home that had been "filled literally from floor to ceiling with art".
According to Hitz, the Mao shooting incident occurred at Hopper's house after he became "spooked" by the likeness.
Rather than reacting angrily, Warhol called the star - who recieved Oscar nominations for his writing and his acting - a collaborator.
"Andy saw it, loved it and annotated those holes," Hitz told the Associated Press.
Posters from movies Hopper starred in, including Apocalypse Now, Blue Velvet and Speed, are also in the Christie's auction.
A 158-page Easy Rider script, with extensive handwritten notes on its back two pages, is expected to be sold for up to $3,000 (£1,900).
Christie's said the actor's children would keep other parts of Hopper's collection, including his own photography and paintings.