UK music sales decline for sixth consecutive year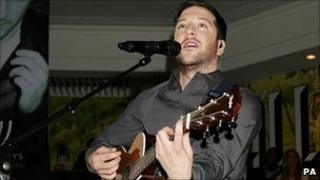 Music sales in the UK have fallen for the sixth consecutive year, according to the British record industry's trade association.
The British Recorded Music Industry (BPI) said combined digital and physical album sales fell 7% last year, from 128.9 million to 119.9 million.
The 2009 figures saw an overall drop of 3.5%, despite a rise in download sales.
Digital analyst Mark Mulligan said the figures were not suprising, adding "alternative products are needed".
"The simple fact is that CD sales are declining much more quickly than digital sales are growing," he went on.
"Worse still, download sales growth is slowing.
"There is nothing in current trends to suggest that download sales are going to accelerate quickly enough to turn around music sales anytime soon.
"New alternative music products are needed. 99p downloads aren't enough."
Earlier on Wednesday, music and books retailer HMV announced plans to close 60 UK stores in the next 12 months.
The company said Christmas sales were down 10% and warned profits would be at the lower end of forecasts, blaming severe weather and "challenging trading conditions".
The BPI monitored sales gathered by the Official Charts Company and said sales of digital albums in 2010 have increased by 30%.
It also found the combined singles market recorded an all-time high of 161.8m, beating 2009's figure of 152.7m.
Yet sales of digital single tracks, which have continued to rise since 2006, represented 98% of the overall figure.
CD singles only accounted for 1.9m sales - down on last year's total of 2.5m.
In the final week of 2010, sales of downloaded singles surpassed the 5 million mark for the first time ever.
'No fluke'
The market for digital albums also went mainstream in 2010, with nearly a fifth of sales now coming from online services.
Take That's Progress was crowned the best-selling album of the year after shifting more than 1.8m copies.
The top-selling single of 2010 was Eminem's Love the Way You Lie, closely followed by When We Collide by X Factor winner Matt Cardle.
BPI chief executive Geoff Taylor said sales recorded from the previous year show that digital sales highs in the past few years had been "no fluke".
"Music fans continue to embrace the convenience, value and choice offered by legal download stores," he added.
The BPI has blamed illegal downloading for the drop in sales, and has again called for "meaningful action" to tackle the issue.
However, Jim Killock of the Open Rights Group said: "Music companies should make albums more compelling, rather than calling for families to be cut off the internet.
"Music competes with games, video and TV for your hard-earned cash," he continued.
"Record labels are masters of their own fate and need to stop blaming their customers for their industry's own failures."
The Open Rights Group aims to raise awareness of digital rights and civil liberties issues.