Babe creator Dick King-Smith dies aged 88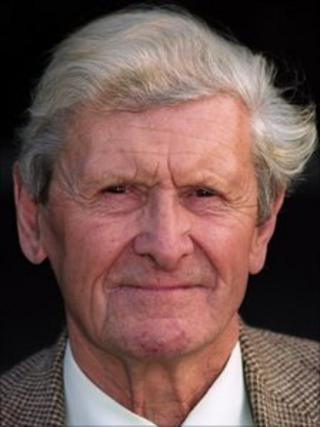 Best-selling children's author Dick King-Smith has died at the age of 88, his agent has confirmed.
The writer, whose 1983 book The Sheep-Pig inspired hit 1995 film Babe, died in his sleep on Tuesday at his home near Bath.
King-Smith had been in poor health in recent years, his agent added.
The writer, who often featured animals in his works, was one of the UK's most prolific, penning more than 100 books since 1978.
The Invisible Dog, Harriet's Hare and The Witch of Blackberry Bottom were among his many other titles.
Born and raised in Gloucestershire, Mr King-Smith fought in Italy with the Grenadier Guards in World War II.
After returning to England, he was a farmer for 20 years before turning his hand to writing.
His first book, The Fox Busters, was published in 1978, when King-Smith was already in his 50s.
He went on to sell more than 15 million copies of his works worldwide, winning numerous awards.
Another of his books, The Queen's Nose, was adapted into a BBC TV series that ran for seven series from 1995 to 2003.
His 1990 story The Water Horse was also turned into a 2007 feature film starring Emily Watson and David Morrissey.
King-Smith was made an OBE in December 2009, an honour his agent said he had been "delighted" to receive.
He is survived by his second wife Zona, three children, 14 grandchildren, four great-grandchildren and one great-great grandchild.