Robert De Niro to head Cannes Film Festival jury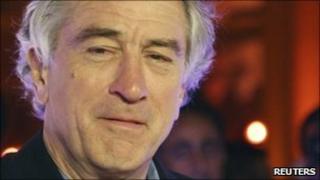 Robert De Niro will head the jury at this year's Cannes Film Festival, organisers have announced.
The Taxi Driver star, 67, said he was honoured to preside over "one of the oldest and one of the best" festivals in the world.
As president of the nine-member jury, De Niro - co-founder of the Tribeca Film Festival - will help decide the winner of this year's Palme d'Or award.
This year's festival will run from 11 to 22 May.
As founder of both New York's Tribeca and Qatar's Doha Tribeca film festivals, De Niro said he had "an increased appreciation for the jury who serve, undertaking an important role in choosing films that are represented in the world of film at its highest level".
"These types of festivals help connect the international film community and have a lasting cultural impact," he added.
De Niro, who won the best supporting actor Oscar in 1975 for The Godfather: Part II as well as best actor for Raging Bull in 1981, has been to Cannes eight times to promote his films.
In 1976, Taxi Driver won the Palme d'Or as did The Mission, directed by Roland Joffe, 10 years later.
De Niro's latest film, Meet the Parents sequel Little Fockers - released on 22 December - topped both the North American and the UK and Ireland box offices.