EastEnders baby plot to end early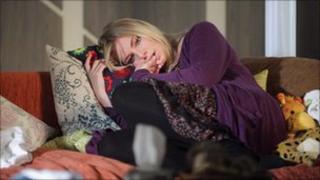 The EastEnders cot death storyline is to be brought to an early end after more than 8,400 complaints to the BBC.
The story of Ronnie Branning swapping her dead child for another baby drew criticism from Sudden Infant Death Syndrome (Sids) awareness campaigners.
The story - the most complained about in the show's 25-year history - will end in the spring after baby Tommy is reunited with his mother, Kat Slater.
The BBC said it made the decision after listening to complaints.
Writing on the BBC's EastEnders blog, executive producer Bryan Kirkwood said: "Whenever we embark on a story at EastEnders we always leave it open-ended to monitor and listen to audience reaction.
"With this in mind we are going to bring the story to a close on screen in the spring."
The show would explore the impact of events "in a way that is powerful, but true to the best public service tradition of the show", he said.
In new year episodes, Ronnie, played by actress Samantha Womack, was shown finding her baby, James, dead in his cot.
She was later shown in the living quarters above the soap's Queen Victoria pub where she swapped James with baby Tommy, the newborn son of characters Kat and Alfie Moon.
The storyline that previously held the record for the show's most complaints - more than 7,000 - was the April 2009 death of Ronnie's daughter Danielle in a car accident.
'Crass twist'
Parenting website Mumsnet was flooded with complaints over the current storyline, prompting it to write a letter to the BBC suggesting that "as is all too common, a bereaved mother has been portrayed as deranged and unhinged".
On Friday, the site published a letter of response from BBC Vision director Jana Bennett.
In the letter, she acknowledged it was "without doubt a very challenging and emotional story and one that has had a deep impact on many of those who have been watching it".
She added: "Taking Kat's baby is the action of a character in great distress due to a series of events that have befallen her in the last 18 months.
"It is the culmination of these that has driven her to this one moment of madness rather than as a direct result of the loss of her baby."
She also invited Mumsnet staff to meet the programme's makers to discuss the storyline further.
On Thursday, actress Womack - who is leaving the soap - denied she had quit over the storyline, saying her exit had been agreed with producers for several months.
TV presenter and Sids awareness campaigner Anne Diamond, whose baby son died in 1991, told the BBC News website the baby swap storyline was a "crass twist to an otherwise credible storyline" that had not done "one iota of good in educating a young audience about cot death".