Local TV: Will it succeed in the UK ?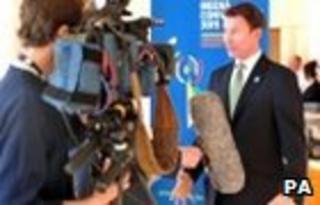 Culture Secretary Jeremy Hunt has announced plans for a network of local television services to be launched across the UK.
Speaking at the Oxford Television Convention, he said the stations would need to be supported by a national digital channel - and he invited media organisations to suggest how it could be run.
As he is the first to admit, Jeremy Hunt has been banging on about local TV for years. Despite deep scepticism from most media executives, and claims from Labour's shadow culture minister that it's a "vanity project", he has stuck to his guns.
If local services work in North America and mainland Europe, he argues, surely they can be made to work here?
Now he's announced an action plan that he hopes will see the first local TV services licensed to broadcast by the end of next year. Will it work - and if so, how?
Mr Hunt's plan is for a national digital channel to act as a "spine" for local services to opt into, each broadcasting for a couple of hours or so at key times of the day.
It would have a prominent place on the electronic programme guide (EPG) and he'd like it to run on all digital platforms, including Freeview, BSkyB, Virgin and YouView.
He's invited new and existing media providers to tell him, by 1 March, how they would run the channel. His department will then draw up a blueprint and a licensing system to get local services up and running.
Despite the scepticism, there is some growing support for the idea.
An independent review panel told the government that up to 15 city stations might be viable on digital terrestrial television - provided there was a national channel to link them and attract national advertising.
This would be an interim solution until more homes had high-speed broadband, at which point dozens of local TV stations might be possible via the internet.
This is the model Mr Hunt is adopting, but he says other media executives are more optimistic.
Greg Dyke, the former BBC director general, is one. He chairs an industry group called the Local Television Advisory Committee, which believes many more local stations are possible because they can be run more cheaply than the review panel suggested and could attract more local advertising.
A group called Channel 6, headed by a former Trinity Mirror executive, Richard Horwood, believes a new national channel, providing high-quality programmes, could attract a great deal of national and local advertising, helping underwrite the city station concept.
Mr Hunt is asking them, and other interested parties, to put their ideas forward.
But there are several questions to be answered.
How much spare broadcasting spectrum is available around the country, and can it be organised effectively to create both a national channel and the local opt-outs?
Could Manchester and Liverpool, for example, both have city stations or must they be further apart?
And would the spectrum be given away by the government or would the local operators have to pay for it?
Can the government dictate that the national channel should have a prominent place on the EPGs, next to the five existing public service channels?
Mr Hunt says he hopes all the platforms - including Sky and Virgin - will co-operate, but would Sky really want to give up channel 106 (currently used by Sky One)?
If there's to be a new national channel, sustaining the local services, what impact would that have on the main commercial channels - ITV1, Channel 4 and Channel 5 - particularly if it's as successful as Channel 6 thinks it could be?
Alternatively, what if it is NOT as successful as Channel 6 hopes (which many think more likely, given the profusion of digital channels already)? Couldn't that drag down the whole concept of local TV?
If a new national network proves too difficult, what if one of the existing public service networks became the "spine", using its existing audience to give a leg-up to the local opt-outs.
ITV already has regional news services - would it like to extend into more local programming?
And what about Channel 4, which has always had a remit to reach audiences not catered for by other commercial TV channels? Could it not have local opt-outs at breakfast time and before Channel 4 News?
One thing seems certain - having got this far, Jeremy Hunt is not going to abandon his vision for local TV.