Prince William and Kate Middleton film to be made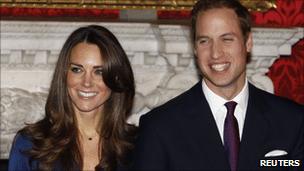 A film about the romance between Prince William and Kate Middleton is being made by US TV network Lifetime.
The movie's producers said it would chart "the ups and downs of their nine-year courtship complicated by social and royal family pressures".
Nico Evers-Swindell will play William, while British Chariots of Fire actor Ben Cross will play Charles. The role of Kate Middleton has yet to be cast.
It is likely to be aired in the week before the royal wedding on 29 April.
Lifetime said the movie would chronicle the couple's history "from the moment the two students met at Scotland's prestigious University of St Andrews".
The network said it would also address the "intense global media attention surrounding their storybook nuptials".
Meanwhile, BBC America has announced a new two-part programme which will bring royal wedding fanatics from the US to the UK.
British presenter Cat Deeley will act as a tour guide as four fans are taken on a royal-themed journey around London.
Related Internet Links
The BBC is not responsible for the content of external sites.