Film invasion of the Super-Brits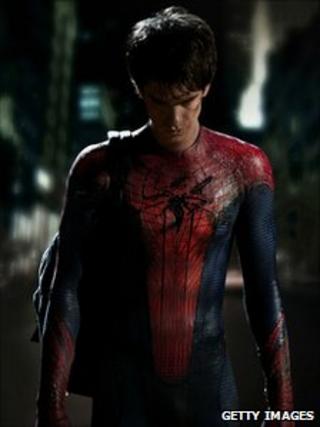 For years the Brits have most often been known as the villains of the piece when it comes to superhero movies - but the tables have now turned, with the two latest heroes set to hit the big screen hailing from British shores.
Forget Terence Stamp as General Zod in Superman, Sir Ian McKellen as Magneto in X-Men and Alfred Molina as Doctor Octopus in Spider-Man.
Enter Andrew Garfield as Spider-Man and Henry Cavill as Superman. Not to mention Christian Bale, who will play Batman for the third time in The Dark Knight Rises.
Cavill's casting marks the first time Superman - who fights for "truth, justice and the American way" - has been played by a non-US actor.
Film critic Jason Solomons, says the casting of Cavill is "weird".
"I'm very surprised. We're more used to getting the villain roles," he says.
"Brits are much better at overcoming stammers than the forces of darkness," he adds, referring to Colin Firth's much-lauded role in The King's Speech.
But Helen O'Hara from Empire magazine says it is not anything new.
"There was a trend a few years ago for Australian superheroes, Hugh Jackman as Wolverine, Eric Bana as Hulk. Then we had a Welsh trend, with Bale as Batman and Ioan Gruffud as Mr Fantastic (in the Fantastic Four)."
American accents
But she concedes that "the interesting one is Cavill - the first non-American actor to play Superman. Maybe it leaves the way open for an American to play Bond."
One theory is that Garfield and Cavill were relatively unknown when they were cast - and so are unlikely to have had such large financial demands as more established US actors might.
But Solomons believes that it is British actors themselves who have overcome a hurdle.
"It's a snobbery we have overcome ourselves (to play a superhero). And British actors have now got to grips with the technology, the special effects. We can do green screen, blue screen - and wear capes."
Total Film writer George Wales thinks it is more down to individual talent.
"There is a current conception that British actors carry a certain amount of sway in Hollywood, particularly with The King's Speech basking in the glow of being this year's Oscar darling," he says.
"But the reason Christian Bale, Andrew Garfield and friends are hogging the plum roles in superhero films is because they're among the most talented actors on the scene at the moment. The fact that they're of British origin is neither here not there."
And he believes it is a good thing Hollywood is moving away from the "hackneyed cliche of the sneering British villain".
"This is probably down to the fact that superhero films are no longer camp curios, but serious money-spinners," he explains.
But will Americans care that their beloved superheroes are not being played by American actors?
As Solomons points out, they are bound to do American accents anyway.
Indeed Bale, who has already starred in two Batman films, even uses an American accent when doing interviews about the films so as not to confuse people.
And for Garfield it is not much of a stretch - he was born in California to Anglo-American parents and moved to the UK when he was four.
As Wales points out, any griping over the casting of Henry Cavill seems particularly redundant: "Superman isn't an American. He's from Krypton!"
Of course, it is not just British actors who are making waves on the other side of the Atlantic.
Captain America
Kenneth Branagh is directing Marvel's Thor, starring Australian actor Chris Hemsworth, while Batman director and Superman producer Nolan is considered a bright British Oscar hope for his film Inception.
But Americans need not fear - the most patriotic of American superheroes will be portrayed by US actor Chris Evans, who has the title role in Captain America: The First Avenger.
And Welsh actor Rhys Ifans will play a villain in the new Spider-Man film.
But Solomons thinks it is about time the Brits took over a few traditionally American roles.
"They had an American playing Sherlock Holmes (Robert Downey Junior), so this is revenge."