BBC drama sends Outcasts to new planet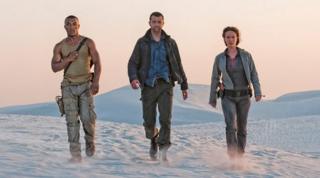 Professor Stephen Hawking said in an interview last year: "Our only chance of long-term survival is not to remain inward-looking on planet Earth, but to spread out into space."
It was that theory that inspired Spooks writer Ben Richards to pen his latest BBC One drama, Outcasts.
Set on the fictional planet of Carpathia, Outcasts sees a group of individuals forge a new beginning after the destruction of Earth.
"It was originally conceived as a pioneer story, and as the one place left for pioneers is space we put the two ideas together," Richards says.
"It is something that it not necessarily about aliens and spaceships, but about human relations - the pioneer spirit and how we would go about creating a new society if you were given the chance."
'Fish out of water'
The opening episode sees the first expeditionaries, who made their home on the planet 10 years ago, await the arrival of the last known transporter from Earth, having lost all contact with the planet years before.
Led by President Richard Tate - originally a geneticist who found himself in charge of 50,000 people - a new society was created, along with all its challenges.
"He's a fish out of water," says Irish actor Liam Cunningham, who plays Tate.
"He's on an alien planet, but it also wasn't the job he set off to do.
"He has a lot of moral choices, but his mission is to keep humanity going by whatever means necessary - which we discover wasn't always the right decision," he adds.
Tate is joined on his team by Stella Isen, head of protection and security, played by Spooks star Hermione Norris.
"Stella is a maternal presence on Carpathia, the moral compass," says Norris.
"She's left behind a small child and a husband, so her biggest challenge has been not knowing what has happened to them."
Building Carpathia
Creating the new world of Carpathia - named after the ship that came to the rescue of the Titanic - was a massive undertaking.
"I didn't have any hard and fast ideas of how it should look, I just wanted it to look credible," Richards says.
"It was a challenge to find something not just beautiful, but something as far as possible like Earth - which was always going to be hard as you've got to film on Earth."
The answer was to film in South Africa at the foot of a 360-degree mountain range, where two huge, sprawling sets were built to create the town of Forthaven.
The country's landscape offered the chance to film white sand dunes, coastlines and mountains with unusual rock formations to help give Carpathia its otherworldly look.
"Carpathia is personified as a new world - it's raw and very foreign," says Ugly Betty star Eric Mabius, who plays the power-hungry character Julius Berger.
"The landscape is impressive. It's not just one thing which was so effective about the location - it was dark and lush at the same time."
In researching the show, Richards - keen to strike a balance between futuristic and far-fetched - spoke to a scientific advisor.
"I know there are some cheats - all sci-fi has to cheat or you wouldn't have a drama," he says.
"It is likely there is a planet out there somewhere in the universe, but it's not so much whether it exists - it's whether we could get there.
"So you have to cheat and invent an anti-matter propulsion system or whatever and go with it.
"The scientists would say 'Yeah, fine', but then they'd get obsessed about a tiny little detail or say, 'Where are the robots?'"
Outside the Doctor Who franchise, the BBC has had limited success with prime-time sci-fi drama.
Even Richards shies away from saying his new series falls into the genre. "I've tried to avoid labelling it," he says.
"It clearly has sci-fi elements, but I would never want to say this is only for sci-fi fans because I don't think it is. But I don't want to be patronising to the genre.
"Outcasts is fundamentally about second chances - whether human beings are capable of living together in peace and building a better place for their children."
Outcasts begins on BBC One on 7 February at 2100 GMT.