How to run a theatre without arts funding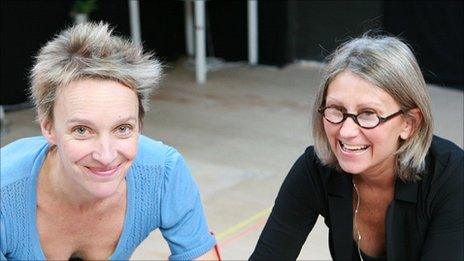 When Lucy Bailey and Anda Winters launched a self-funded London theatre just after the government arts cuts were announced last October, some wondered if it was an act of madness.
How is their project faring three months on?
"A lot of people said to us 'Wow, you're doing something brave!'" says director Lucy Bailey as she surveys Notting Hill's newest theatre venue The Print Room from a pub across the road.
Outside the refurbished building flaps a red flag emblazoned with the theatre's name.
Bailey and fellow artistic director Anda Winters have spent the last two years converting the former print works into an arts venue.
"The launch timing happened to be quite useful, because people wanted something to celebrate in the very dark moments of the cuts," says Bailey.
"Because we are doing it together, somehow you feel stronger," adds Winters, who has been involved in theatre for more than 30 years as a producer and designer.
The longtime friends found the venue three years ago after deciding to launch a theatre "over a bottle of wine, with our children running around".
At first they considered setting up their theatre in a water tower. But a friend's tip-off led them to the abandoned printers, once home to around 45 workers.
"It felt like they'd all walked out one day and left it as it was, with a Virginia creeper growing through it," says Bailey.
Winters puts it more dramatically. "It looked like there had been a nuclear war, and life had stopped."
The Print Room's debut play in November was a bold choice: a new version of Fabrication, by Italian writer, poet and film-maker Pier Paolo Pasolini.
"We're trying not to put on shows that other theatres will be doing," explains Bailey, whose RSC production of Julius Caesar has just ended its run at the Roundhouse in north London.
"We're trying to dig out the gold that's not been discovered before. I found that play 18 years ago and it was a discovery for everyone who came to see it."
The next production at the Print Room is Snake in the Grass, a little-known play by Alan Ayckbourn.
A glimpse of the set during rehearsals reveals the entire theatre space transformed into a derelict tennis court, complete with overgrown moss and a sagging net.
The play - whose cast includes Susan Wooldridge, Sarah Woodward and Mossie Smith - is described as both a black comedy and a psychological thriller.
So how does staging a work by the oft-performed Ayckbourn fit in with the venue's stated aims?
"We don't want to get stuck in one idea," asserts Bailey. "If you think we're just doing European drama, forget it."
As if to reinforce that point, Bailey and Winters have revealed their next production in May will be Kingdom of Earth by Tennessee Williams.
"It's an amazing piece I've been trying to do for about 10 years," enthuses Bailey. "We can take that risk with our small theatre.
"It was done in London 35 years ago. It 's a very savage, surreal, sexual, threatening piece of drama."
The 80-seat venue is currently self-funded. According to Winters, though, the Print Room will eventually have to apply for grants.
Bailey adds: "Our feeling in the beginning was that we couldn't go to the Arts Council until we proved we had something to offer.
"We need to encourage private funding. Alongside that we want the government to support the arts and support us.
"But that's more a long-term relationship. Why should that happen immediately? We've got to earn our laurels."
Artistic endeavours aside, Bailey and Winters have also had to tackle the practicalities of building toilet facilities for the new theatre.
"It's been one of our biggest challenges," says Bailey. "When we get onto the subject of toilets, our eyes light up!"
Snake in the Grass is at The Print Room until 5 March.
Related Internet Links
The BBC is not responsible for the content of external sites.