Obituary: Ernest Borgnine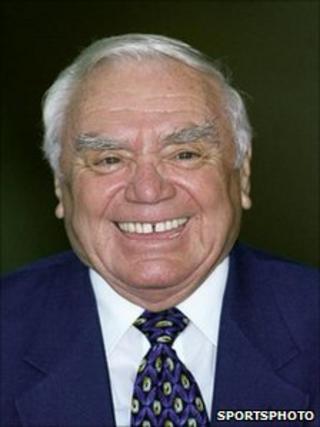 With his stocky build, bulging eyes and gap-toothed, pugnacious features, Ernest Borgnine, who has died aged 95, was one of Hollywood's leading character actors.
His looks meant he often ended up playing the heavy, so it was, perhaps, a mark of his versatility that his only Oscar came for his role as the good natured Marty, in the 1955 film of the same name.
He added longevity to that versatility, being nominated for an Emmy when he was in his 90s.
Ermes Effron Borgnino was born on 24 January 1917 in Hamden, Connecticut, the son of Italian immigrants. His parents moved to New Haven in 1923 and changed the family name to Borgnine.
He had no early ambition to be an actor and, on leaving high school in 1935, he enlisted in the United States Navy. Discharged in 1941 he joined up again after Pearl Harbor and served until the end of the war.
On his return to civilian life he began working in a number of factory jobs until his mother suggested that his forceful personality might find more fulfilling expression on the stage.
Broadway
Borgnine promptly enrolled at a drama school in Hartford and then joined the famous Barter Theatre in Virginia, so named because local people paid for their seats with produce from their farms.
His performance as the Gentleman Caller in Tennessee Williams's play The Glass Menagerie provided Borgnine with his first breakthrough, when several New York critics attended the off-Broadway production.
"I thought I was terrible in the part," he recalled, "but it brought the house down."
Soon he was appearing on Broadway as a male nurse in the play, Harvey, and broke into movies after a screen test in which he competed with 140 other actors.
Ernest Borgnine made a big impression in 1953 in his first major role, as the sadistic sergeant, Fatso, in From Here to Eternity, who terrorises Frank Sinatra's character Angelo Maggio
Tears at audition
It led to numerous supporting roles as "baddies" in dramas and Westerns, including Bad Day at Black Rock with Spencer Tracy.
But in 1955, he broke free from typecasting with his most memorable role, the shy, sensitive butcher, in Marty.
When he auditioned for the role and saw tears rolling down the cheeks of the writer, Paddy Chayefsky, he knew he had won the part.
"I played myself because I, too, had been a wallflower at one time," said Borgnine. "I was always the shy one. I was more of a boy scout than I was a man about town. So when the time came I just played myself and it was the easiest thing in the world."
Against strong competition from Spencer Tracy, Frank Sinatra, James Dean and James Cagney, Borgnine's performance won him the Oscar for best actor, as well as a Bafta.
Among Ernest Borgnine's other notable films were The Vikings, The Dirty Dozen and The Poseidon Adventure. And, although he purported to dislike television, his series, McHale's Navy, was a major success in the United States. Another well-remembered TV role came in the 1980s, in the action series Airwolf.
Despite the violence in some of his films, notably The Wild Bunch, he refused to play real historical villains, rejecting a substantial sum to portray Al Capone.
Borgnine believed this character should be seen to be adequately punished for his crimes. He also frowned upon films with swearing and explicit sex.
He was still acting into his nineties. In 2009 he guest starred in the final series of the hospital drama, ER, winning an Emmy nomination for his role. He also starred in the film Another Harvest Moon, released the same year.
Ernest Borgnine was married five times. His last wife, Tova, was a cosmetics entrepreneur. He had a daughter with his first wife, Rhoda Kemins, and two children with Donna Rancourt, his fourth wife.
He was also married to the Mexican actress, Katy Jurado, and the musical star, Ethel Merman, the latter marriage lasting barely a month.