Director Jackson sets start date for Hobbit filming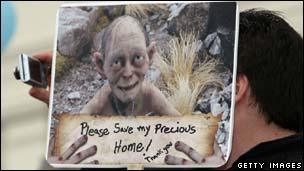 Filming of the two Hobbit movies will finally begin in New Zealand next month, director Peter Jackson has said.
"Despite some delays we are fully back on track and very excited to get started," he said.
Problems faced by the movies included a threat by their makers to move filming after a row over actors' wages.
The films, the first of which is due out in December 2012, were further delayed when Jackson was hospitalised last month because of stomach pains.
Jackson, whose Lord Of The Rings trilogy was also filmed in his homeland of New Zealand, underwent surgery for a perforated ulcer and was discharged on Thursday.
Warner Bros and New Line had previously considered taking the production away from New Zealand after acting unions threatened to boycott the films in protest over payments to actors.
The studios agreed to film the movies in New Zealand after the government granted them tax breaks worth millions of dollars and changed employment laws.
The films, which will star Martin Freeman as Bilbo Baggins, were earlier stalled by problems including rows over distribution rights and the exit of original director Guillermo del Toro.