Film-maker Michael Moore sues Weinstein brothers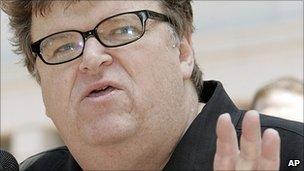 Film-maker Michael Moore has taken legal action against producers Bob and Harvey Weinstein, claiming he is owed millions in profits for his 2004 documentary Fahrenheit 9/11.
Moore claims the brothers used "Hollywood accounting tricks" to keep him from receiving $2.7m (£1.67m).
According to legal papers, an audit brought several alleged irregularities to light.
A lawyer for the Weinsteins called the claims "hogwash".
Moore alleges his agreement with the Weinstein brothers was to split all profits equally.
But the Oscar-winning director claims "grossly excessive and unreasonable" expenses were deducted before those profits were calculated.
He claims audits show money was deducted for advertising costs that was never spent, and that a private jet was hired to fly one of the brothers to Europe.
The Weinsteins' lawyer, Bert Fields, said Moore's suit should be dismissed.
"Michael Moore has been paid $20 million (£12.4m) and he claims he should get $2 million (£1.2m) more," Mr Fields said.
"His claims are hogwash. They are totally without merit. He's been paid every dime he's entitled to."
Fahrenheit 9/11, which centred on the Bush administration's actions after the 11 September attacks of 2001, made more than $220 million (£137m) worldwide.
The film - whose title alludes to the Ray Bradbury novel Fahrenheit 451 - won the Palme d'Or at the 2004 Cannes film festival.
Related Internet Links
The BBC is not responsible for the content of external sites.