Artichoke Hearts wins children's book prize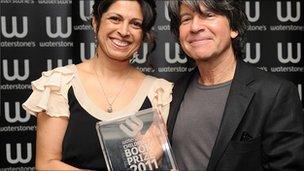 First-time author Sita Brahmachari has won the Waterstone's Children's Book prize for her coming of age novel Artichoke Hearts.
The story, which deals with death and grief was inspired by her mother-in-law's death from cancer.
The writer was presented with her £5,000 award by Children's Laureate Anthony Browne at a London ceremony.
Browne said the "beautifully written" book made him "laugh and cry - sometimes at the same time".
The judging panel praised Artichoke Hearts for the way it tackled the issue of death and for the "effortless way in which it shows how inspiring grandparents and the older generation can be for children".
The book tells of a 12-year-old girl who deals with the trials and tribulations of growing up while her beloved grandmother is dying.
Published earlier this year, Brahmachari's book beat eight other authors to win the prize.
Caroline Horn of The Bookseller magazine said the author "seems to have an instinctive grasp of the issues faced by young people of this age."
Past winners of the prize, voted for by booksellers across the country, include The Diamond of Drury Lane by Julia Golding and The Great Hamster Massacre by Katie Davies.
It is open to authors writing for children from seven to 13 and who have written no more than two fiction titles.
Related Internet Links
The BBC is not responsible for the content of external sites.