Miranda Hart sitcom moves to BBC One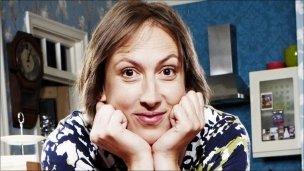 Award-winning sitcom Miranda is to move from BBC Two to BBC One when it returns for a third series.
The sitcom, which sees Miranda Hart playing an exaggerated version of herself, earned three prizes at last month's British Comedy awards.
Hart, who also writes the show, said it was like "renting a swish apartment that I hope I don't look out of place in or break all the furniture".
The TV comedy followed her Radio 2 show, Miranda Hart's Joke Shop.
"I am very grateful to BBC Two for supporting and nurturing me, and trusting my vision for the show," Hart said.
The 38-year-old was named best actress at the British Comedy awards, while her show was voted best new TV comedy.
"Miranda's been a tremendous hit with audiences on BBC Two," said George Entwistle of BBC Vision.
"I'm very glad she's let us persuade her to move to BBC One, where we believe we can build an even bigger following."