Arts Council England head Dame Liz Forgan defends staff
By Liam Allen
Arts reporter, BBC News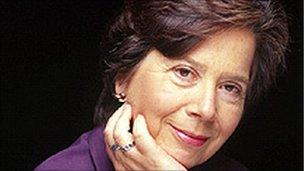 The chair of Arts Council England, Dame Liz Forgan, has spoken out against the government, claiming it sees its staff as "ATM machines for doling out dosh".
Addressing culture minister Ed Vaizey at a London arts conference, she said she was "frustrated" when the costs of running the body were called "admin".
Staff were "entrepreneurs, impresarios, coaches and investigators", she added.
Mr Vaizey denied the charge, saying staff had worked "incredibly hard" on "changes since the election".
The council, which distributes money to hundreds of arts venues, theatre groups and galleries, will announce its latest round of grants on 30 March.
In October's spending review, it was announced that the Arts Council's annual grant was being cut by £100m.
Dame Liz said "good decisions" were being made by "skilled, experienced and knowledgeable people with a real passion for the arts and a real understanding of both artists and audiences".
Staff, she continued, acted as "marriage brokers, counsellors, experts and advice services".
"They are not all perfect but I will fight anyone who talks about them as if they were simply ATM machines for doling out dosh," she added.
Dame Liz said she was "worried" about a government target to reduce the council's running costs by a further 50% over the next three years.
"A cut of that size has to mean drastic change. It will seriously affect the scope and nature of the job we can do," she said.
In response, Mr Vaizey said that while he was "under no illusions that these next few years are going to be tough", the government had "done all we can to help".
That included cutting Department for Culture, Media and Sport costs by 50% "in order to help protect the frontline" and pledging £80m to boost philanthropy in the arts.
Funding across the arts would still amount to the "hugely significant sum" of "more than £1bn in 2011/12", he added.
The government aimed to work hard at "encouraging new alliances between the Arts Council and other bodies across the creative industries," he went on.
"We've given the Arts Council their allocation and we trust them to make the right decisions on how best to deploy it," he said.
"And we trust artists to use that money and do what they do best - create great art that has the greatest impact on the widest audience."
The comments were made at the second annual State of the Arts conference, organised by the Royal Society of Arts and Arts Council England.
Other speakers at the day-long event include Brookside creator Phil Redmond, Cultural Olympiad director Ruth Mackenzie and Turner Prize-winning artist Mark Wallinger.
Related Internet Links
The BBC is not responsible for the content of external sites.