Shakespeare's Globe actors to read King James Bible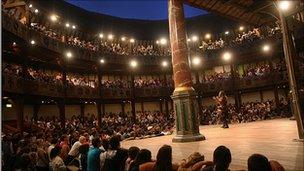 A team of actors will read the King James Bible from cover to cover to mark its 400th anniversary as part of the Shakespeare's Globe 2011 season.
The Word is God will see 20 actors reading the Bible over eight days between Palm Sunday and Easter Monday.
The season also includes productions of Much Ado about Nothing, All's Well that Ends Well and Marlowe's Doctor Faustus.
There will also be a staging of Hamlet that will open at the Globe on 23 April - William Shakespeare's birthday.
Joshua McGuire - soon be seen in BBC drama The Hour - will play the title role in the show.
The production, which the Globe's artistic director Dominic Dromgoole will direct himself, will go on to tour the UK and play in the Danish town of Elsinore, where Hamlet is set.
Olivier award-winner Janie Dee will play the Countess of Roussillon in All's Well that Ends Well, which is being staged at the Globe for the first time.
Eve Best - Wallis Simpson in Oscar contender The King's Speech - will play Beatrice in Much Ado.
The season will end with The God of Soho, a new play by Chris Hannan about a reality TV star who fears exposure in the press.
Earlier this year the London playhouse announced it would stage each of Shakespeare's 38 plays in a different language to mark the 2012 Olympics.
Related Internet Links
The BBC is not responsible for the content of external sites.