Upstairs Downstairs to return for second series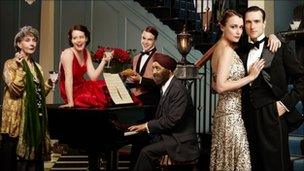 Revived costume drama Upstairs Downstairs will return for a second series in 2012, the BBC has confirmed.
Six one-hour episodes, with Jean Marsh as housekeeper Rose, will be broadcast next year.
The show was originally broadcast on ITV in the 1970s but was brought back by the BBC over Christmas with a largely new cast.
It proved a big hit with audiences, attracting an average of 8.4 million viewers.
BBC One controller Danny Cohen said the series had been recommissioned because of the "wonderfully imaginative and distinctive plans the team have to take the drama forward".
"Going back to Eaton Place feels like opening a jewel box," writer Heidi Thomas added.
"The Holland family and their servants are set for an extraordinary year and I am thrilled to be their guardian."
The new version of the show saw former housemaid Rose return to her old place of work to serve a new family.
Marsh appears alongside Dame Eileen Atkins, with whom she created the original version of the programme.
The announcement came on the same day that Marsh, 76, was named 'Old Maid of the Year' at the annual Oldie awards in London.