Kazuo Ishiguro plans to stage Never Let Me Go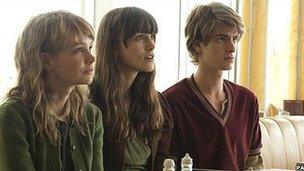 As Never Let Me Go arrives in UK cinemas, novelist Kazuo Ishiguro is already planning its transition to the stage.
The writer has recently returned from Tokyo where he has been in discussions on a Japanese-language version of his Booker Prize-shortlisted novel. He is also in talks about a British stage production.
"We have to allow three years from the release of the film to the time it can be done on the stage - but whether it will be a musical or not is another matter," Ishiguro told the BBC.
Last year a musical version of Ishiguro's 1989 Booker winner The Remains of the Day ran at London's Union Theatre.
Ishiguro was adamant, however, that he won't be writing the stage version of Never Let Me Go himself.
"That's a very difficult thing to do," he said. "I'm always awestruck by people who can write for the stage. I'm a real theatre lover, but I would no more try to write a stage script than write an opera."
The 56-year-old author said he felt "relieved" now that Never Let Me Go had been released in the UK, three months after it opened the London Film Festival.
"It feels like it's taken forever to get here," he admitted. "We had two earlier release dates. If you write a novel and people make a film of it you really worry that something not quite right will come out. But I'm so proud of this film.
"It's a great showcase for the new generation of British acting talent. Carey Mulligan and Andrew Garfield have become such great stars since the shoot."
Mark Romanek's film, however, left many critics lukewarm and has been largely overlooked during awards season. It received no Bafta or Oscar nominations.
In Never Let Me Go, Keira Knightley, Mulligan and Garfield play three characters, who grew up together at a secluded boarding school, whose lives have been predetermined from birth.
Ishiguro and screenwriter Alex Garland began discussing the film version of Never Let Me Go before the novel was published in 2005.
"While I was writing the novel Alex was writing these screenplays that made him this very hot screenwriter - 28 Days Later, Sunshine - so it felt very natural when I came to the end of writing the novel for him to say 'why don't I try and turn it into a movie?'"
Ishiguro is not worried about the spoiler aspect of the story, which has been widely reported in reviews.
"Maybe it adds a slight dimension if you don't know anything when the films kicks off," he said.
"Fairly early on you're going to learn the premise and that's not really what the film is about. The film is about what happens after that - it's a story about love and death. It's not about some sinister secret."
While Ishiguro doesn't see Never Let Me Go as a science fiction film, he doesn't rule out exploring the genre in future novels.
"I don't think about it that consciously, but having got into this terrain, if I need anything from this kind of world I feel free to take it."
The author admits that promoting Never Let Me Go over the last six months as held up work on a new novel.
"I'm very happy to have done it, but now I'm going to get back to work and try to think of a few more stories."
Related Internet Links
The BBC is not responsible for the content of external sites.