Tate spreads art around Britain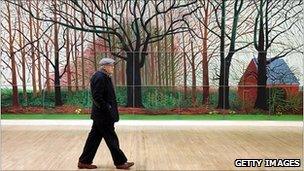 Art lovers will be able to see more works from the Tate's collection in galleries across the UK, its director Sir Nicholas Serota has promised.
The Tate has lent more than 100 works to a group of 19 Yorkshire galleries, marking the first time it has joined forces with an entire region.
Sir Nicholas said the Tate's art was "held in trust for the whole nation, not just a metropolitan audience".
He spoke as a David Hockney painting held by the Tate was installed in York.
Hockney's Bigger Trees Near Warter, a grid of 50 canvases, was unveiled at York Art Gallery
The work, which stretches a total of 12m (40ft) across, will move to Bradford and Hull later this year.
Sir Nicholas's approach marks a departure from the Tate's strategy of expansion in the 1980s and 90s, when it opened galleries in Liverpool and St Ives in Cornwall.
"We now see our role in rather different terms from establishing satellite museums across the country," he said.
"What we want to do is to support the extraordinary collections and initiatives that are growing out of communities across the United Kingdom."
Speaking to assembled curators, Sir Nicholas said: "There is no need for the Tate to establish further branches.
"There is a need for the Tate to use its collections to support everything that you are doing."
The Hockney work is the first to go on show as part of a year-long Art in Yorkshire series, to which the Tate has contributed exhibits.
The events include a Henry Moore show in Leeds, the opening of a gallery celebrating Barbara Hepworth in Wakefield and the first major exhibition of Damien Hirst in Leeds, where the artist grew up.
"We're trying to help in every way possible," Sir Nicholas continued. "We're lending large numbers of works.
"We're giving support in other ways. We see ourselves as a resource to be used by all of you.
"I assure you this is a beginning and not an end."
The Tate has already launched the Plus Tate scheme, through which it is collaborating with 18 galleries across the UK.
Another project, Artist Rooms, saw the Tate take an extensive selection of art donated by collector Anthony d'Offay on tour.
Related Internet Links
The BBC is not responsible for the content of external sites.