Denise Van Outen pulls out of new Channel Five show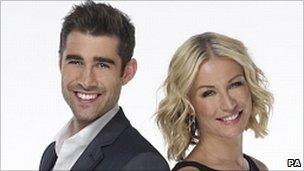 Presenter Denise Van Outen has pulled out of hosting Channel Five's new celebrity magazine show OK! TV, just days before it is due to start.
A statement issued by the station said the decision was down to Van Outen's "other contractual commitments".
Starting on Monday, OK! TV replaces Five's daily magazine programme Live from Studio Five.
Kate Walsh, who presented that show throughout its run, will now host its successor alongside Matt Johnson.
The announcement regarding Van Outen's departure came just hours after Channel Five bosses spoke about her role on the show at a press event.
The presenter herself wrote about it on microblogging website Twitter earlier this week, saying she was "so excited about our new show".
Earlier this month, the 36-year-old said she was "really looking forward" to working with Johnson and that she had "a huge appetite for all things showbiz".
Channel Five announced her exit in a brief statement on Friday, adding that "both parties wish each other the very best".
That was followed by a second statement saying it was "delighted" that Walsh, 29, would be "stepping up" to fill her shoes.
"We all know how fantastic and experienced Kate is following her time on Live From Studio Five and are delighted to have her on board," it continued.
Earlier on Friday Channel Five announced a number of new shows, among them a programme about gadgets and a reality show featuring a group of young lesbians in London.
Van Outen's spokesperson could not immediately be reached for comment.
Related Internet Links
The BBC is not responsible for the content of external sites.