US actress Betty Garrett dies, aged 91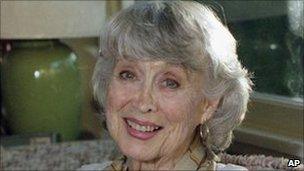 Betty Garrett - a US actress, singer and dancer - has died in Los Angeles, aged 91, her son has said.
Garrett Parks said she died at Ronald Reagan UCLA Medical Center, most likely from an aortic aneurysm.
Garrett was best known for playing Frank Sinatra's sweetheart in two MGM musicals in the 1940s.
Her movie career was brief, partially because she was blacklisted due to her and her husband Larry Parks' past ties with the Communist Party.
Garrett later moved on to TV, becoming well-known for her roles in the 1970s sitcoms.
Over the years, she also had sporadic roles on Broadway.
Garrett and Parks stayed married until his death in 1975.